The weather was supposed to be much better today so we moved off. We were soon passing Osberton Hall and there was still loads of work going on. We were soon down the Lock and passing where we had moored on the way up. Then we had seen a pair of lapwings defending their nest so were upset to see the field had been worked over so damaging the nest. We felt better when we saw in the next field three pairs that were actually nesting. These birds have had a dramatic fall in numbers over the last few years so all should be valued. Just a little later we saw a couple of red kites circling. These had become extinct in the UK but had been reintroduced in several areas with birds from the continent. They have done well and are definitely spreading and we have seen them in several areas. They are big birds and to watch them soaring is a real pleasure. Then to add to the 30 mins of bird watching as we passed this little spot we saw a breeding pair of oyster catchers. They are along way from any oysters but they are a lovely bird to see.
Osberton Lock.
We were then going round some very bendy canal, and under the A1. The bends maintain the canal on the same level but must have been very difficult to navigate with a horse drawn boat. We were looking forward to approaching the Greenmile bridge as the Richlow Guide claims that this was a good area to see kingfishers. We hadn't seen any on the way up but the weather wasn't very good then. We crept along at tick over speed, just in case, but we didn't see a thing! We dropped down the Forest Top Lock and moored on the end of the lock landing where we had moored before.
After lunch we went for a walk, back over the Greenmile Bridge and up the Green Mile Lane which is a by-way. It was a dead straight road but could not have been roman like the road it crossed a little further. This was the Old North Road that was diverted through Retford over 200 years ago to assist with the trade of the town. It was a lovely walk with sand underfoot and trees arching over head.
Green Mile Lane by-way.
We were soon at Babworth Church. This was the church where the journey of the Pilgrim Fathers settling in America could be said to have started. Richard Clyfton was the Minister at All Saints Church from 1586 to 1605. Rather than be forced to follow the State religion he led a group of separatist. Among these were William Brewster and William Bradford who went on to be founder members of the New Plymouth. He was excommunicated in 1607 and then fled to Amsterdam to join other separatist there. When the movement decided to move on to Leiden he remained in Amsterdam. Unfortunately in 1610 he was disgraced when he chose to support others in a corruption scandal and they were proved to be corrupt. He died in 1616, before the Mayflower finally left Plymouth for America in 1620.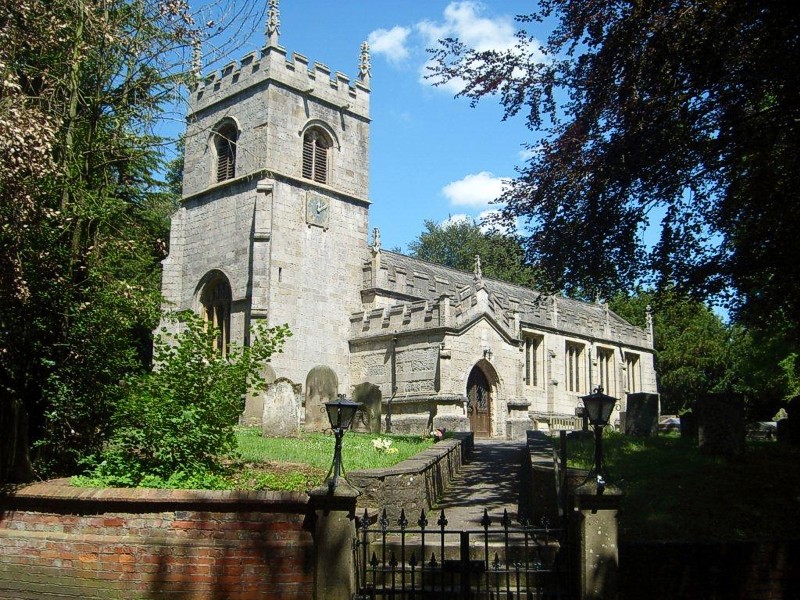 Babworth Church.
We then walked back to the canal and up the tow path past the three lower Forest Locks. We passed two boats coming through and in the end they have moored up just below us. There were also two trail boats passed. Things are really picking up for the Bank Holiday.