The rain started almost as soon as I got up. It wasn't really wet rain but stopped me doing outside jobs. I had to muck out the cat as it was all getting a bit much so that was my first job. After that I set to removing the secondary glazing window film that we had put on most of the windows at the end of last September. It had worked really well and was well worth doing, especially in the bedroom. We left a couple of windows clear so that we had a little ventilation. We picked up boxes of the stuff through the summer when we saw it in Wilko's and Home Bargins etc. I has seen them advertised for almost double the price we paid as we got really good deals. I will keep my eyes open through the summer. I am thinking about installing acrylic double glazing (or what ever plastic is best) it is just the best way to do it. I wonder how much it would be to have the job done properly when we have a repaint in the future. However I love putting the film up as when you play the hair drier on it and it tightens up it is like a minor miracle and tickles me.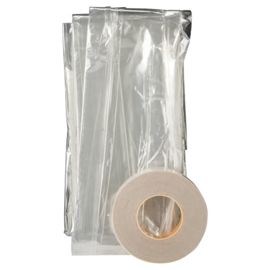 The secondary glazing kit.
That took me through 'In our Time' with Melvyn Bragg on Radio 4. I love that programme as normally they experts give you all the information in a condensed and interesting way. Today was the Sino/Japanese War 1937 to 1945. By the time it was over the rain had eased even further so I ventured out to do some shopping. Helen would be proud of me as I visited many shops and only bought where I saw the best prices. It is market day but there was nothing going on in the Butter Hall. I was sorely tempted by a tap and die set for £10 but resisted. I still have a few things to buy for the weekend.
After my lunch I decided to do a bit of cleaning. Before we left home I asked my Mum if she had a spare carpet sweeper as I was fed up of being on my hands and knees last year. She said she did and would look it out for me. The next time I went she presented it to me saying that it was new! Then in the next breath that it had belonged to Granny. She has been dead 30 years! Everything is relative I suppose. I took it home and cleaned it up and took it with us. Amazingly it is very good at sweeping the carpet. I have had a look on line to see if I can get spares for it, new brushes and the like, but didn't find them on first try. Despite that it works very well.
Our 'new' carpet sweeper.
It is a Bex Bissell and a quick look found that it is an American company that was founded by Anne and Melville Bissell who had a shop in Grand Rapids, Michigan in mid 1800's. Anne was fed up of sweeping up sawdust from the carpets and so put her inventive husband to making something to make it easier. He did and it worked a treat. Friends and neighbours then wanted one. Eventually Melville got a patent for it in 1876 and then they opened their first factory in 1883. Melville died in 1889 and Anne stepped in as CEO of the company and became the first female CEO of a corporation. By 1890 they were making 1000 a day. They have gone from strength to strength and have weathered the latest recession very well.
I just want to assure Helen that the single moorhen chick and sole surviving mallard duckling are both doing well.