I had to be up fairly early today as my dental appointment was for 0900. I was there in good time and so had a wait. I am with quite a large NHS practice and they are very business like in one way. In another the dental nurses and secretaries seem to think nobody else is there. For some reason they were up and down to the whole time and then a bang on 0900 they all came up the stairs to the second floor where I was with coffee. I wasn't quite sure whether it was for them or for the Dentist ensconced within. The same nurses seem to crash though the consulting room door every few minutes. I find this very rude but nobody else seems to mind. I normally see a Polish Dentist but he must have been on holiday as a saw somebody new in a new room. This gave me the chance to walk past all the doors. I saw that there were two British, two Polish, two Greek and one Spanish Dentist working there. I suppose this means that the majority of the British trained dentists are working in the private sector. As I say there are very efficient and after a check up and scrape and polish they soon relieved me of £18 and gave me another appointment for March. I have never been private but the most expensive treatment was £145 so maybe if you are unlucky in a year it may cost you around £200. I expect that the dental insurance route would cost more than that a year.
I got some stuff out to take back to the boat and then went round to see my Mum and do a few jobs for her. She is off to France to visit another brother at the weekend so she is all packed etc. The |C&RT Licence Renewal was there waiting for me. It was gone up to £925-67 for a 56' boat. With the discount for early payment it comes down to £833-38. I will pay it soon and also that means the boat insurance is due too. I was talking to the lady who had her boat sunk at Lock 9W on the Huddersfield the other day and she was telling me how pleased she was with her insurance company as they had been very helpful, within the limits of her policy and she had no regrets and would not leave them. It is only once you actually need them that you appreciate them, so long as they do keep their side of the bargin. She was single handing up the Huddersfield when she left 9W the lower gates were leaking so badly and the pound above was so low that by the time she had opened the gate and started to move the boat out of the lock the water level had dropped and she was caught on the sill. If you can't quickly pull her off with a full astern movement then the only thing you can do would be run and let water out of the lock above. Not really possible when single handed. This is the second time in two years it has happened at the same lock! C&RT recommend that before crossing the sill the water level in the pound should be checked to ensure it is high enough to compensate for the leaking bottom gates. I will be checking very carefully when I am there in a week or two, but you would think the thing to do would be to fix the leaks in the bottom gates wouldn't you! The incident occurred on 5th August and the lady was telling me that the boat should be ready about first week of October. As it is her home she has had to live in a tent whilst the work has been done. She has been largely lucky with the weather though.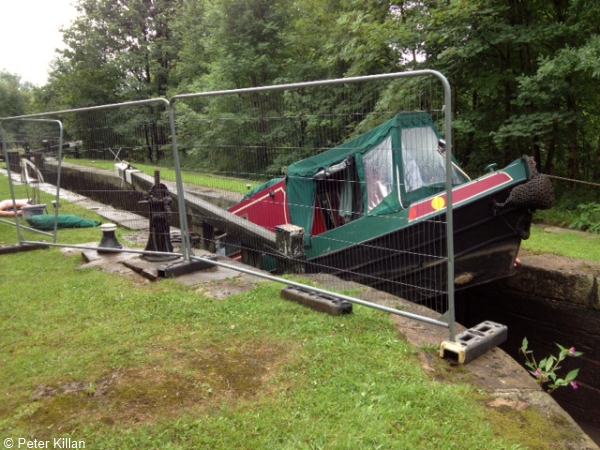 Boat caught on the cill of 9W lock on Huddersfield Narrow Canal.
I will be heading back to Ashton in the car tomorrow morning to give me time to get the boat painted up etc. I am looking forward to getting back as it does feel like home.