A week last Thursday I noticed that there was no change in the display on my remote read out for the solar panel output. I had a good fiddle about with all the connections to the solar panels and all seemed to be tight and normal. I then bailed out the glory hole where all the coats and brollies etc etc are kept that hide the area of the invertor and the MPPT Controller etc. I checked the connections there and all seemed right there too. The next day, late on, I managed to contact Tim Davis of 'On Board Solar' who installed them. He was full of confidence saying that I just had to disconnect the two red contact feeds from the panels followed by the one red contact from the battery, wait for ten seconds then connect them back up in reverse order. This I assume was the same as rebooting the system. What ever it was it didn't work and I was a little stymied. Tim said that 99 times out of 100 this works and the only thing to do now was to return the controller to his supplier M&R Controls, but as it was the weekend it would be Monday before he could sort it out.
We went for a walk that night and I got a phone call from Robin at M&R Controls with a couple of ideas to try but if that didn't work I would have to send the whole box to him. The next morning I tried what he said but still no joy so I managed to find some packing, including some rolled up puppy training pads and managed to catch the post on Saturday. It was received on Tuesday and and checked out. It seems that the original firm ware had a glitch and mine still had the original version. After installing the newer version and leaving it on test it seemed all was well.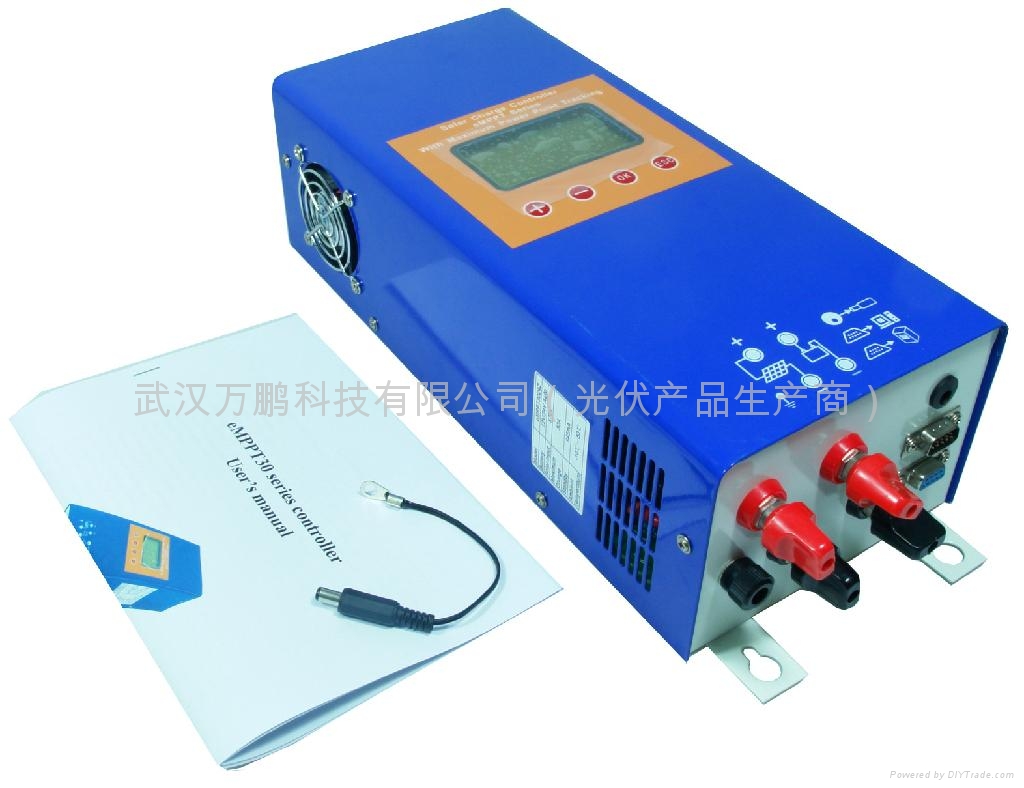 This is very similar to my model but instead of having the display actually on the unit I have a remote read out unit that makes viewing much easier.
It took a little time to have it collected from him and then the weekend intervened. I had checked with the Post office on Brentford High Street that they would accept a parcel Poste Restante for me and they were fine about it so that is where I had it sent.
Helen was arriving back to the boat after her visit to Hull for her Volunteer Training and after I had been to collect her from the train I went to the PO to see if my parcel had arrived. They had told me that the normal drop off time was after 1630 and when I arrived it was there waiting for me.
I brought it back to the boat and once again cleared out the space so I could install it again. I had to remember to install the battery before the panels and then plug in the lead to the remote readout. I'm very pleased and relieved to say that it is now working. Needless to say that after over a week of nice sunny weather it is to be dull and wet for the next few days.
This time with no solar input into the system has enabled me to assess what benefit the solar is in figures. I have taken the ten days with no solar and the average time the engine has been run to charge the batteries to 100%. I have then taken the ten days before the controller went on the blink. This is actually not a true comparison as the engine was run for cruising so it will have actually run after the batteries had been charged up to 100%.
this revealed that with no solar the average engine hours were 5.2 hours and with the solar the average was 3.7 hours. That makes 1.5 hours every day difference. I reckon that if the 'with' figure was actually to when the batteries were up to 100% it would be around 2 hours per day difference. I think fuel consumption is about 1.5 ltr. per hour, so 3 ltr. a day, 90 ltr. a month. That would be between £80 and £90 extra on fuel a month. It would also mean an extra service a year to so with oil and filters another £70 or £80 if you do it your self.
All this is not that accurate but it does make me feel that their installation has already paid for it's self and has been a cost that was well worth while.